Put the fur in a bucket or similar. Cover it with methylated spirit. The best place for this operation is to be outside, because it smells and is I think a little bit unhealthy. Let the fur in the spirit fot at least a few hours. Squeeze very softly ,and let it hang outside so that most of the methylated spirit will come off.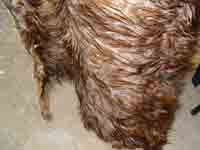 You have to blow dry the skin when it is still wet, this is very important. Use the backside of an elder vacumcleaner or a dryblower, no heat on.
I used a brush very softly to lift up the hairs in the fur. You will give the fur a " fluffy" treatment this way by blowing and brushing the fur. The fur has not lost one singel hair because of the methyladed spirit!! but the sh.... smell is gone.